GENEXUS AUTHORIZED DISTRIBUTOR.
Artech is the leading provider of knowledge-based software development tools.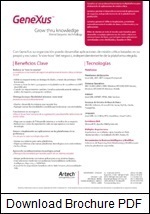 More than 6,000 customers worldwide use the GeneXus Technologies to create and integrate mission-critical applications that adapt easily to relentless business change. The GeneXus Technologies enable our customers to use their unique know-how on the leading technology platforms.
Artech Products.
Genexus.
BPM & Worflow.
Bussines Intellingence.
GxPortal.
GxServer.
GxTest.
Genexus.
GeneXus is a powerful, multi-platform software design and development tool that enables truly incremental development of business critical applications..
GeneXus generates 100% of the application based on your user requirements, providing programming-free, automatic maintenance of your application's database and application programs.
Key Benefits .
Slash time-to-market.
Enjoy minimum total cost of ownership with maximum flexibility.
Increase Productivity .
Minimize Risks.
Optimum flexibility for a smaller total cost.
Focus on your core competences.
Generate and deploy your applications on multiple platforms.
Leverage your existing IT infrastructure.
More Information: www.genexus.com